In addition to increasing the statutory limits on immigration, among other policy changes, the Immigration Act of 1990 led to the creation of a new employment-based, fifth-preference visa category: the EB-5 visa, otherwise called the Immigrant Investor Program. The legislation marked the first time a visa category specifically served to facilitate the admission of investors as lawful, permanent U.S. residents, and since its inception, the EB-5 remains the only category with this end. Each year, a maximum of 10,000 EB-5 visas are allocated to eligible intending immigrants.
Purpose and History

Congress justified establishing the EB-5 visa as an effort to stimulate economic growth and domestic job creation. By allowing alien entrepreneurs a more seamless pathway to lawful permanent residency in the U.S., the program sought to catalyze investment in American enterprises. Shortly after the category's debut, legislators created the Immigrant Investor Pilot Program, with the goal of increasing interest in the program. Authorized in 1992, this pilot program designated certain business entities as eligible for special designation from U.S. Citizenship and Immigration Services (USCIS). These entities, more commonly known as EB-5 regional centers, are approved to administer EB-5 investments on the basis of proposals indicating their ability to promote job growth. Regional centers are given special designation principally because the areas in which they're located would otherwise find it difficult to attract domestic investment based on current regional economic trends, including high unemployment. As of June 2017, USCIS designated more than 850 regional centers.

Over the subsequent years, compelled by fraud and lax administration of EB-5 investments, USCIS overhauled the Immigrant Investor Program, implementing requirements including applicants' showing proof that investment monies originated from lawful sources, prohibiting guarantees of investment returns, and clarifying the types of commercial enterprises that are eligible under the category. As a consequence of the new regulations, the number of EB-5 applicants sharply decreased. Accordingly, in 2003, Congress passed the Basic Pilot Program Extension and Expansion Act to institute additional reforms and reinvigorate interest in the EB-5 program. This legislation created the Investor and Regional Center Unit, which, starting in 2005, centralized auditing, oversight, regulation, and policy changes related to EB-5 administration. Originally, EB-5 petitions were processed and adjudicated at two centers, one located in California and the other in Texas. As of 2009, however, EB-5 processing has been centralized at the California Service Center. A multi-year transition to relocate the EB-5 processing center to Washington, D.C. is currently underway.

Notably, the EB-5 regional center pilot program has yet to become a permanent fixture of immigration law, and instead has been prolonged by way of successive reauthorizations. The most recent reauthorization occurred in November 2019, and allows for the program to continue without changes through December 30, 2017.
Visa Program Overview

EB-5 visas are reserved for immigrants who have invested, or are in the process of investing, at least $1.8 million in a new commercial enterprise that employs at least 10 full-time U.S. workers no later than two years after the petitioner receives an approved Form I-526, Immigrant Petition by Alien Entrepreneur. The investment requirement is cut in half to $900,000 for aliens investing in regional centers and targeted employment areas (TEAs), which are rural locations or areas with unemployment rates greater than 150 percent of the national average. Investment in regional centers, moreover, allows for a less restrictive job creation requirement, with USCIS accepting "indirect" jobs, or employment opportunities arising ancillary to the investment but not a product of the enterprise invested in itself (e.g., those created by other businesses servicing the enterprise or generally part of the supply chain). Of the 10,000 EB-5 visas allocated annually, 3,000 are reserved for TEAs, and 3,000 are reserved for regional centers.

For more detailed information on EB-5 requirements, click here.
Trends

Nearly 30 years after its creation, it's safe to say the EB-5 program is no longer hampered by a lack of interest. While no more than several hundred EB-5 petitions were filed in the early 1990s, demand currently exceeds statutory capacity. The past decade in particular has featured an uptick in interest. In 2008, USCIS awarded a total of 1,360 EB-5 visas; by 2012, the agency had issued more than 4,000. In addition to a series programmatic overhauls and improvements, an underlying reason for the increase has been China's economic growth, which has led to the rise of hundreds of thousands of independently wealthy individuals. (In 2016, mainland-born Chinese entrepreneurs alone accounted for more than 75 percent of EB-5 visas issued.) An additional factor was Canada's termination of its analogous foreign investor program in 2014, which effectively reduced the pathways available specifically to international investors to immigrate to Western countries. Take a look at the table and graph below, which demonstrate the growth in the EB-5's popularity.
| | | | | |
| --- | --- | --- | --- | --- |
| Year | Number of Petitions* Received | Number of Petitions Approved | Number of Petitions Denied | Number of Petitions Pending |
| 2008 | 1,258 | 642 | 120 | 853 |
| 2009 | 1,031 | 1,256 | 208 | 514 |
| 2010 | 1,953 | 1,369 | 165 | 1,125 |
| 2011 | 3,805 | 1,571 | 372 | 3,347 |
| 2012 | 6,041 | 3,677 | 957 | 5,018 |
| 2013 | 6,346 | 3,699 | 943 | 7,131 |
| 2014 | 10,923 | 4,925 | 1,169 | 12,453 |
| 2015 | 14,373 | 8,756 | 1,051 | 17,367 |
| 2016 | 14,147 | 7,632 | 1,735 | 20,804 |
| 2017 | 12,165 | 11,321 | 922 | 24,992 |
| 2018 | 6,424 | 13,571 | 1,551 | 14,394 |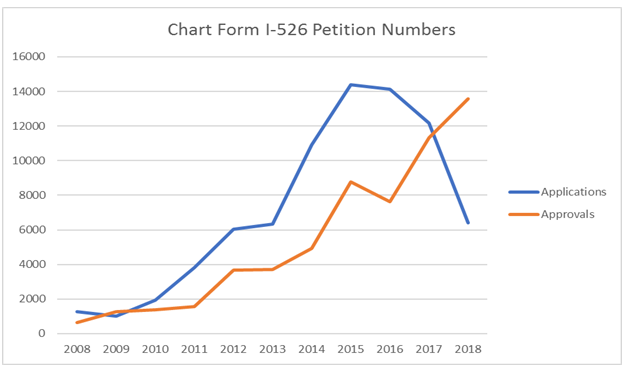 Source (for the data): USCIS

As the above table and graph illustrate, beginning in 2014, the EB-5 category began to exceed capacity in terms of the number of petitions filed. Consequently, the program began experiencing a retrogression, meaning that visas under this category were not immediately available for certain groups, i.e. mainland China-born investors. Additionally, notable about the above data is the high approval rate of EB-5 petitions, which has generally kept pace with the increase in petitions filed. However, through the first half of 2016, the denial rate reached an all-time high of 30 percent. As the 2016 and 2017 EB-5 stakeholder meetings referenced, the most common reason for EB-5 denials was the failure of applicants to demonstrate that their investment funds were lawfully acquired. From 2017 and onwards, we are beginning to see a spike in approval percentages but a dramatic decrease in applications. This decline in overall EB-5 applications is likely due to long backlog of available visas for Chinese investors, the general political climate in the United States, and the increase in the investment amount required. With the wait time for an available visa of over 4 years, many Chinese investors worry that their children might age out and will no longer benefit from the visa. Furthermore, the political climate and stricter immigration policies have decreased the desirability of the United States as a place to live. Lastly, many foreign investors did not apply due to talks of increasing the base investment requirement amount from $1 million and $500,000 in TEA during 2017. Those talks eventually became policy as the final rule established a minimum investment of $1.8 million and $900,000 in TEA.

Our Thoughts

For those intending immigrants with both the financial resources and the patience required for any high-risk investment, the EB-5 visa program offers a streamlined, efficient niche in the U.S. immigration system. Among the incentives to apply under this category is the lack of two requirements associated with other employment-based categories: a permanent job offer and labor certification. There's likewise neither a requirement of maintaining a home-country business, which is a component of the EB-1C visa, nor any specific criteria dictating minimum levels of education, experience, achievements, or income. Moreover, with the exception of applicants born in mainland China, for whom there is currently a visa backlog, most qualifying EB-5 applicants do not have to wait for extended periods of time for visas. Among the obvious disincentives, of course, are the substantial risk that has to be taken with a substantial sum of money, and the fact that an EB-5 visa does not lead to automatic permanent residency, as investors are first subject to a two-year conditional residency period.

Finally, it's worth noting that the amount of money the EB-5 program injects into the U.S. economy is not insignificant. Between 2012 and 2016, as USCIS reported, EB-5 investors collectively infused at least $8.7 billion into domestic commercial enterprises, and as a result spurred the creation of more than 35,000 jobs for U.S workers. Given such impact, it's easy to see the potential for sustained, sizeable economic benefits, particularly in areas suffering from lagging growth and high unemployment.
For more detailed information about the EB-5 visa, refer to the following links:
Updated 06/09/2017